Daily flower delivery to Cuyahoga Falls, Stow, Silver lake, Tallmadge, Akron, and Munroe Falls. New Hours: Mon-Thur 10-3 Fri 10-5 Sat 10-1
Across the Miles
Item #
Across the M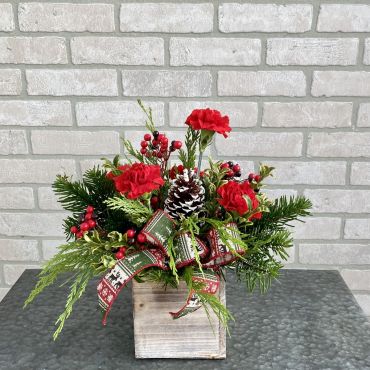 This item is not available online. Please call for purchasing options.
Send a small Christmas arrangement Across The Miles to loved ones near and far who can't be with you this Christmas. Our designers paired our fragrant evergreens with long-lasting carnations, berries, and pine cones in this adorable floral arrangement.
This small arrangement is perfect for a side table or the corner of a desk at work.
Keep this arrangement watered and it should last about 2 weeks, and maybe longer :)
We can send this across the country or locally. We deliver to Kent (of course), Ravenna, Tallmadge, Stow, Akron, Silver Lake, Munroe Falls, and Cuyahoga Falls